Make a Difference by Giving!
It is more blessed to give than to receive. Acts 20:35
t is because of the prayers and financial support from benevolent individuals that Gem State Adventist Academy is able to continue its 100-year tradition of providing quality Christian education. Our goal is to train students for leadership and service, gaining knowledge and experience that will help them be successful leaders in their families, churches and careers. Above all else, we strive to prepare our students for eternity, encouraging them to develop a personal relationship with Jesus. You can be a part of this mission and assist us in enriching the lives of our students. Through your philanthropy you can make a difference.
Winston Churchill once said, "We make a living by what we get, we make a life by what we give." When you give to Gem State Adventist Academy, you invest in our students, staff and mission. We invite you to partner with us in fulfilling this worthy calling.
Whether it is giving to worthy student scholarships, helping fund mission trips, funding new equipment or building improvements, your gift will have a huge impact on what we do here.
We invite to explore our areas of need and ways to give. One of the easiest ways to make a big impact is to sign-up for monthly giving. A gift of $50 a month turns into $600 annually!
If you have any questions or need assistance, please contact our Development Director, Teresa Soule.

If you are interested in staying connected and seeing how your gifts are making a difference, send us your email address or like us on Facebook.
If you aren't receiving our newsletter, the GSAA Link, please let us know so we can update your mailing address in our system.
---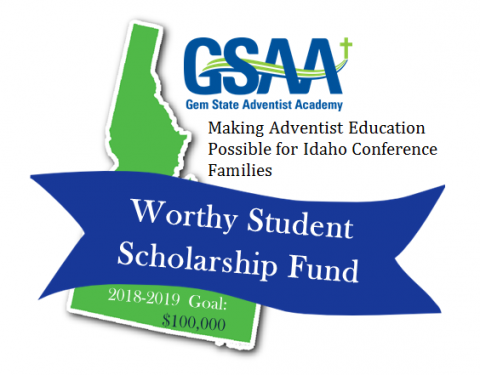 It takes a community to prepare our kids for eternity. The world is a scary place and for many students GSAA is a safe haven where they can grow and learn.
We believe Adventist education should be within the reach of every family. Money shouldn't ever get in the way of a teenager being able to attend Gem State Adventist Academy. That is why our Worthy Student Scholarship Fund is so important.
Please consider supporting this important fund. You can make an eternal difference in the lives of our young people. Make a gift today!
Daniel, a senior, says, "I have grown so much since coming to Gem State. I was at a very spiritual low coming from a public school, but being here around the staff and other students has really opened my eyes to who God is. My sister and I wouldn't be able to have this experience if it wasn't for you financially supporting Gem State's mission. Thank you for helping us grow." 
---
As you know education costs have risen substantially in recent years. Many families struggle to afford the cost of an Adventist education. In an effort to help with this problem Gem State has not raised its tuition in five years, but inflation is making it harder and harder to keep our tuition costs fixed.
We depend on you and your support of the Annual Fund to "bridge the gap" between tuition and the actual costs of operating Gem State Adventist Academy. The GSAA Annual Fund helps to offset the cost of tuition and keep it affordable for families, as well as fund technology upgrades and provide for important programs like Campus Ministries, Music and Athletics.
Through strong fiscal responsibility and God blessing our school, GSAA has operated for the past three years in the black—and finished last school year with our assets greater than our liabilities, something that hasn't happened in years!
We are doing our part to keep this school strong. God is doing His part to sustain our ministry. But now we need YOU to do your part. It takes all of us working together to insure the future of Gem State Adventist Academy and provide for the young people who attend school here.
Please join our faculty and board members in supporting the Annual Fund. Every gift matters and puts us one step closer to reaching our goal of raising $100,000 in unrestricted funds. The outpouring of generosity from our GSAA family never ceases to amaze us. We know this year will be no different.
You can easily make a gift by using our secure online giving form. Thank you in advance for your support and prayers!