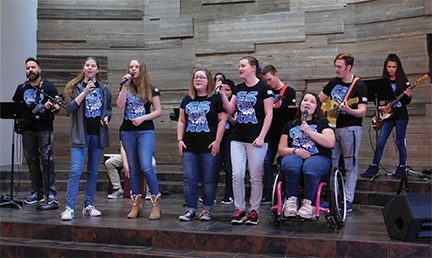 Campus Ministries exists to provide spiritual activities that promote spiritual commitment and growth for students. Spiritual activities offered include, but are not limited to:
FRIDAY EVENING VESPERS
– A weekly worship and praise service designed to welcome the Sabbath.
WORSHIP SERVICE
– A weekly Sabbath morning worship and praise service.
OUTREACH
– Various activities, both on and off campus, designed to engage students' religious faith through serving the needs of others in the surrounding community.
WEEKS OF PRAYER
– Special events offered three to four times each school year. During these weeks, class schedules are adjusted to provide time for guest speakers, organizations, students, and staff to present programs aimed at maintaining and elevating the campus' spiritual atmosphere.
BIBLE STUDY & PRAYER GROUPS
– Small groups organized by students or staff to develop personal and corporate spiritual growth.
MISSION TRIPS
– Annual short-term mission trips are offered either within the United States or abroad. Students pay for these trips either with their own funds or through fund raising efforts.
Contact Pastor Ever Perez to learn more about these ministries.