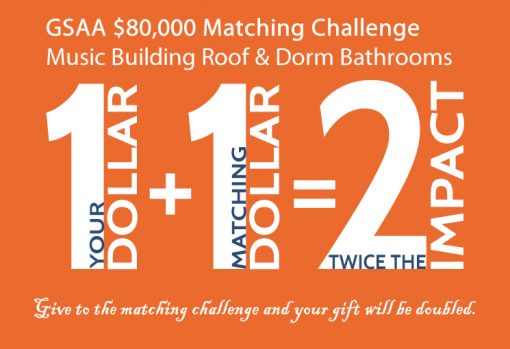 A generous donor recently donated $80,000 to GSAA as a matching gift to repair the music building roof and renovate the dorm boys and girls bathroom shower facilities. The total cost of these two needed improvements is $160,000.
The music building roof currently leaks during heavy rain or when snow builds up. It needs to have the membrane replaced and recoated to provide a better space for students to practice and learn in, as well as to protect expensive music equipment from being damaged.The dorm bathroom shower facilities have not been upgraded in over 30 years. The new upgrades will provide a warmer and more home-like environment for students, including in-floor heating, instant hot water tanks, and larger shower cubicles. No more freezing during the winter due to lack of heat or hot water. In addition a new drain system will be installed and the whole shower facility will receive a face lift to provide a more up-to-date space for our dorm students. The new space will also be easier to clean for our janitorial staff.
Please consider making a gift to this important project. Your gift will be doubled due to the matching gift grant we received. You can have double the impact. Your gift can make a huge difference in the lives of GSAA students.