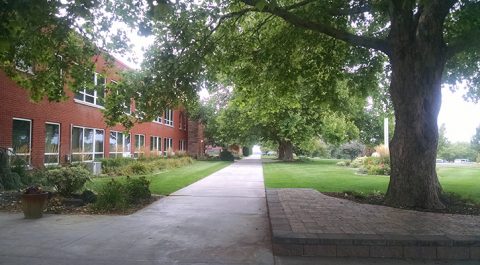 The Founding of Gem State Academy
In June of 1918 the constituents of the Idaho Conference of Seventh-day Adventists determined to build a boarding school where young people could be educated in a Christian environment.
Later that month seventeen acres of semi-rural land was purchased at the intersection of Linden Street and Indiana Avenue in Caldwell, Idaho. The land was chosen because it was easily accessible by rail and because its soil was fertile and easily irrigated. The plan was to develop a farm where students could be employed to help pay their tuition.
In spite of difficult conditions caused by World War I, construction began immediately. As the first cornerstone was laid a Bible was placed in the left pillar of the chapel steps which was then cemented in place. This Bible was to serve as a symbol of light and truth to the hundreds of students who were to walk through the doors of Gem State Academy. That fall, 1918, 30 students enrolled. The new school thrived and grew during its first decade and by the spring of 1930 enrollment had climbed to above 100.
The Depression Years
The Great Depression brought trying times. Even the small tuition fee of $21.45 per month became more than most parents could afford. Enrollment dropped to 65 students. Principal Boynton decided to establish more industries, so that students could earn their way through school.
He began by establishing a greenhouse and truck garden. The vegetables that the students raised were used in the school's cafeteria as well sold door-to-door and commercially. Then in 1932 Prof Boynton established a cannery and in 1934 a bakery. Campus wages in the early 1930s were 12 cents an hour for boys and 10 cents an hour for girls.
With all this additional employment opportunity, an education at Gem State Academy was again within the reach and by 1938 enrollment was back up to 130.
During the 1940s and 1950s Gem State Academy continued its service to generation after generation of young people. Students worked hard to earn their way, they also studied hard and played hard. The faculty was very strict. Radios were not allowed in the rooms. Social activities were closely supervised. Still there was lots of fun.
A New Campus!
In the late 1950s and early 1960s, while John Kennedy was dreaming of putting men on the moon, and Martin Luther King Jr. was dreaming of racial harmony, the people of the Idaho Conference were working to fulfill the dream of building a new campus for their aging school. The beautiful old buildings were deteriorating and the city of Caldwell was moving closer. They purchased 385 acres of farmland at Karcher Road and Montana Avenue, a beautiful plot overlooking the Boise Valley.
By the fall of 1962, the administration building, dormitories, power plant and laundry were complete enough to start school and just in time for the baby boomer generation. School life continued uninterrupted during the '70s, '80s, and '90s. Enrollment peaked in 1976 at 252 students. There were three students in almost every dorm room!
Every school year began with fun - watermelon feeds, corn roasts, and handshakes. Then there were ski trips, music and gymnastic trips, banquets, talent shows and Christmas parties. And at years end, the seniors proudly march down the aisle to receive their diplomas.
Excellence in 21st Century!
As Y2K approached, so did some more challenging times. Enrollments had been slowly declining the previous two decades. Child labor laws were making it impossible for students to "work their way through" and the commitment that earlier generations of parents had had to Adventist education seemed to be waning. The campus was beginning to look tired and worn.
Idaho Conference constituents found themselves fighting to keep their school strong. And fight they did! God raised up individuals to champion His cause. A builder headed up a team of volunteers to renovate the girls' dormitory. An alumnus remodeled two bathrooms on his own time and at his own expense. Philanthropic giving tripled between 2000 and 2006.
Today volunteers and philanthropists continue to work hand and hand with faculty and students to keep Gem State's educational program strong and its campus functional and beautiful.
Many, many things in our world have changed since Gem State was founded in 1918. Nevertheless, Gem State Academy continues its tradition of combining work, study, play and worship. The results speak for themselves:
Many Gem State students score at college levels by their junior year 
Over 90% of Gem State students go on to college 
Many Gem State graduates have become positive change agents.